Neill Blomkamp
Biography:
Birth Name: Neill Blomkamp
Born: 09/17/1979
Birth Place: South Africa
Blomkamp's work as an animator coupled with his film education naturally led to directing, starting with several music videos for local bands. He soon graduated to television commercials, helming spots for Nike, French automaker Citroën and Gatorade. In his off-time, he directed self-funded short films that were heavy on special effects, including "Tetra Vaal" (2004) and "Alive in Joburg" (2005); the latter of which was a six-minute documentary-like sci-fi film that explored the theme of apartheid by way of an alien race being ostracized after settling on Earth. After being showcased as a new director at the 2004 Cannes Film Festival, Blomkamp earned the Hollywood's full attention by landin...
Photo Gallery:
Videos:
Prometheus Sequel Gets Official Title, Release Date & Plot Revealed
Blomkamp Looks to Time-Travel While 'Alien 5' Suspended
Neill Blomkamp Says His Alien Movie Is on Hold Pending 'Prometheus 2'
Show More Videos
Popular Movies:
Chappie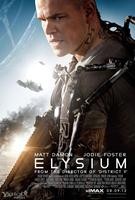 Elysium
District 9