Simon Callow
Listen to Simon Callow
and similar artists
Play Now
Biography:
Birth Name: Simon Callow
Born: 06/13/1949
Birth Place: London, England, GB
Callow made an uncredited appearance as a music lecturer in James Ivory's well-received period drama "Howards End" (1992), played one half of a gay couple in the much talked about "Four Weddings and A Funeral" (1994), and--in a complete departure--showed up in the Jean-Claude Van Damme action feature "Street Fighter" (1994) as a pompous official of an international organization. He remained in Hollywood for a far more eagerly anticipated commercial venture: playing the hissable villain in "Ace Ventura: When Nature Calls" (1995). An established theater ("Shirley Valentine" on the London and Broadway stage), TV and opera director, Callow helmed his first feature, "The Ballad of the Sad Cafe" (...
Photo Gallery:
Videos:
Show More Videos
Albums:
Elgar: 'the Longed-For Light' - Elgar's Music…
Mini Stories
Popular Movies: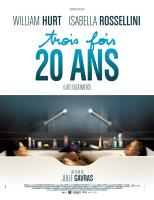 Late Bloomers
George and the Dragon
Bright Young Things
The Phantom of the Opera
No Man's Land
Christmas Carol: the Movie
Shakespeare in Love
Bedrooms & Hallways
James and the Giant Peach
Worked With: