Richard Crenna
Biography:
Birth Name: Richard Crenna
Born: 11/30/1926
Birth Place: Los Angeles, California, USA
Death Place: Los Angeles, California, USA
Died: 01/17/2003
Born Richard Donald Crenna in Los Angeles on Nov. 30, 1926, he was the son of Edith, a hotel manager, and Dominick, a pharmacist. He began taking drama classes while attending Virgil Junior High School, and when an announcement was made that producers were looking for children to perform on a radio program, Crenna tried out. That first audition landed him his professional debut role on the radio serial "Boy Scout Jamboree," one of several programs he would work on over the next decade. Other radio work included stints on "Dear John" and "Burns and Allen," which he managed to squeeze into his schedule after classes at Belmont High School, and later at the University of Southern California, pr...
News:
Blu-ray Review: 'Leviathan'
Celebrity Birthdays, November 30
Celebrity Birthdays, November 30
Celebrity Birthdays, November 30
Popular Movies: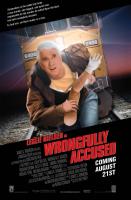 Wrongfully Accused
Jade
Sabrina
Hot Shots! Part Deux
Leviathan
Rambo III
Rambo: First Blood Part II
Summer Rental
The Flamingo Kid
Worked With: