Boris Karloff
Listen to Boris Karloff
and similar artists
Play Now
Biography:
Birth Name: Boris Karloff
Born: 11/23/1887
Birth Place: London, England, GB
Death Place: Sussex, England, GB
Died: 02/02/1969
Born William Henry Pratt on Nov. 23, 1887 in the London district of East Dulwich, England, Boris Karloff was the youngest of nine children by Edward John Pratt, Jr., Commissioner of Custom Salt and Opium for the Indian Salt Revenue Service, and a distant relative of Anna Leonowens, whose stories about life in the royal court of Thailand served as the basis for the musical "The King and I." He attended Kings College in London in anticipation of following his brothers into the diplomatic field, but Karloff dropped out in 1909 to travel across Canada, where he worked as an itinerant laborer, which caused him to develop back problems that persisted throughout his life. He eventually fell in with...
Albums:
The Pickwick Papers
Arsenic And Old Lace
Tales Of The Frightened, Vol. 2
Tales Of The Frightened
An Evening With Boris Karloff And His Friends
How Fear Came (A Story From "The Jungle Books…
Tales Of The Frightened - Complete (1963)
The Pied Piper & The Hunting Of The Snark
The Legend Of Sleepy Hollow & Rip Van Winkle
News:
Videos:
Katharine Hepburn's Hollywood Home For Sale
Top 10 Classic Horror Movie Icons
Show More Videos
Popular Movies:
Transylvania Twist
Madhouse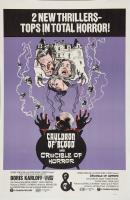 Cauldron of Blood
Targets
Worked With: