Lawrence Kasdan
Biography:
Birth Name: Lawrence Kasdan
Born: 01/14/1949
Birth Place: Miami Beach, Florida, USA
Born on Jan. 14, 1949 in Miami Beach, FL, Kasdan was raised in West Virginia by his father, Clarence, who was an electronics store manager in several cities, and his mother, Sylvia, an employment counselor. After earning his bachelor's degree in literature and his master's in education from the University of Michigan, Kasdan ditched his intention to become a teacher and found work as an advertising copywriter for W.B. Doner in Detroit. Despite deploring the advertising world, he plugged away for five years, even winning a Clio Award, and eventually found himself working for Doyle, Dane, Bernbach Advertisers in Los Angeles. Once there, Kasdan began writing screenplays while still working in a...
News:
Photo Gallery:
Popular Movies:
Untitled (Walt Disney/Gareth Edwards/Star Wars Spinoff)
Star Wars: The Force Awakens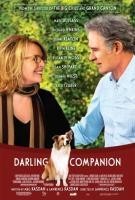 Darling Companion
The TV Set
In the Land of Women
Dreamcatcher
Mumford
Home Fries
As Good As It Gets
Worked With: