Brandon Lee
Biography:
Birth Name: Brandon Lee
Born: 02/01/1965
Birth Place: Oakland, California, USA
Death Place: North Carolina, USA
Died: 03/31/1993
Strikingly handsome Asian-American actor was the son of martial arts legend Bruce Lee and a Swedish-American mother. Lee began performing in regional theater while still in high school. After studying theater in college, Lee received his first break when cast in "Kung Fu: The Movie" (1986), the TV revival of the popular ABC series of the 1970s. He portrayed an assassin on the trail of David Carradine's Cain. (Ironically, the role of Cain was originally conceived for Bruce Lee.) Lee made his feature debut that same year in "Legacy of Rage", a Hong Kong-produced action movie shot entirely in Cantonese. He went on to play the wisecracking sidekick of Dolph Lundgren in "Showdown in Little Tokyo"...
News:
Popular Movies: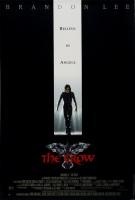 The Crow
Rapid Fire
Showdown in Little Tokyo
Worked With: