Corin Nemec
Biography:
Birth Name: Corin Nemec
Born: 11/05/1971
Birth Place: Little Rock, Arkansas, USA
After the success of "I Know My First Name Is Steven", Nemec signed with Eddie Murphy Productions to star in a CBS pilot "What's Alan Watching?" about a suburban youth who speaks into a video camera as we watch his barely functioning family. This oddball format also allowed Murphy to appear on the small screen in numerous incarnations. Though critical response was good, again it was no sale. Nemec finally scored with "Parker Lewis Can't Lose", an inspired rip-off of John Hughes' popular 1986 feature "Ferris Bueller's Day Off", in which he was the top dog at his high school except when Principal Musso got in the way. Shot in a quick-paced, highly visual style with unusual camera angles, the s...
News:
Corin Nemec Shattered Leg, Lost Half His Blood In Freak Boat Accident
Photo Gallery:
Popular Movies:
High Hopes
Goodbye America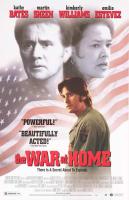 The War At Home
Mojave Moon
Solar Crisis
Tucker: the Man and His Dream
Worked With: