Ben Savage
Biography:
Birth Name: Ben Savage
Born: 09/13/1980
Birth Place: Chicago, Illinois, USA
Born Sept. 13, 1980 in Chicago, IL, Bennett Joseph Savage made his film debut in the fantasy comedy "Little Monsters" (1989) and soon after booked a guest spot on "The Wonder Years" (ABC, 1988-1993), two projects which starred his older brother, Fred Savage. Apart from his family ties, however, he earned his own television role with a recurring turn as Judd Hirsch's son on the life-after-divorce comedy "Dear John" (NBC, 1988-1992), and went on to land a series regular role on the sitcom "A Family for Joe" (NBC, 1990). Although he landed supporting turns in the film "Big Girls Don't Cry They Get Even" (1992) and "Clifford" (1994), he would enjoy more success on the small screen, including a ...
News:
Photo Gallery:
Popular Movies:
Lake Effects
Clifford
Big Girls Don't Cry... They Get Even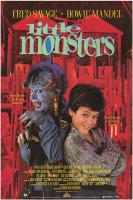 Little Monsters
Worked With: