Casey Siemaszko
Biography:
Birth Name: Casey Siemaszko
Born: 03/17/1961
Birth Place: Chicago, Illinois, USA
He has fared somewhat better on the small screen, notably as the doomed gunner who longs to be a cartoonist in "The Mission", the 1985 Steven Spielberg-directed episode of the NBC anthology series "Amazing Stories". Siemaszko won attention for his lead performance as a bank robber with a facility for disguises in the based-on-fact TV-movie "The Chase" (NBC, 1991). The actor was seemingly typecast as the half-Polish Joey Stivic, the grandson of Archie Bunker, who visits the old neighborhood in the premiere episode of the short-lived CBS sitcom "704 Hauser Street" in 1994. More recently, he was impressive as an angry homicide detective in "Mistrial" (HBO, 1996) and as a Scotsman wooing a young...
News:
Forgotten Friday Flick - 'Three O'Clock High'
Popular Movies:
Public Enemies
Waltzing Anna
The Crew
Limbo
Napoleon
The Phantom
Milk Money
My Life's in Turnaround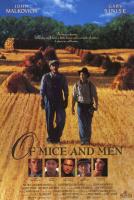 Of Mice and Men
Worked With: