Dick Smothers
Listen to Dick Smothers
and similar artists
Play Now
Biography:
Birth Name: Dick Smothers
Born: 11/20/1939
Birth Place: New York City, New York, USA
Born Richard Remick Smothers on Governors Island, NY on Nov. 20, 1939, he and brother Tom were the sons of Major Thomas Smothers, a U.S. Army officer who died while interred in a Japanese prisoner of war camp during World War II. The Smothers relocated to Redondo Beach, CA, where Dick and Tom received an education at San Jose State University. Their partnership as a folk music duo got its start while at college, and after a brief stint as part of the Casual Quintet, the brothers launched their own act at the Purple Onion in San Francisco in 1959. The act, which featured Tom on guitar and Dick on standup bass, was built around traditional folk songs, but with one added bonus: frequent breaks ...
News:
Albums:
Saturday Night At The World
Popular Movies:
The Informant!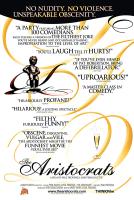 The Aristocrats
Casino
Speed Zone
Worked With: