Skipp Sudduth
Biography:
Birth Name: Skipp Sudduth
Born: 08/23/1956
Birth Place: Wareham, Massachusetts, USA
In 1998, Sudduth returned to the stage, playing Fabian in the Broadway revival of "Twelfth Night". That same year he gave a good performance in the disappointing "54", playing the demanding father of Ryan Phillippe's starstruck club employee Shane O'Shea. He was better suited for a turn opposite Robert De Niro in John Frankenheimer's action thriller "Ronin" (also 1998). Here he played Larry, the adept getaway driver member of a group of espionage experts. He returned to the stage in the 1999 revival of Eugene O'Neill's "The Iceman Cometh", playing Chuck Morello, a bartender planning to marry a prostitute. That same year was featured in "Flawless" with Robert De Niro, playing the security gua...
News:
Photo Gallery:
Popular Movies:
Freeheld
Meadowland
Drunkboat
Flawless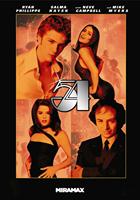 54
Ronin
Eraser
Clockers
Money Train
Worked With: