Danny Thomas
Biography:
Birth Name: Danny Thomas
Born: 01/06/1912
Birth Place: Deerfield, Michigan, USA
Death Place: Beverly Hills, California, USA
Died: 02/06/1991
Danny Thomas was born Amos Alphonsus Muzyad Yakhoob on Jan. 6, 1914 in Deerfield, MI. One of 10 children in a poverty-stricken Lebanese family, Thomas spent his formative years in Toledo, OH and went to work at an early age in order to help his parents keep the family afloat. He also managed to attend school, and upon finishing his education at Woodward High School and the University of Toledo, Thomas began a career in show business, performing on radio (as Amos Jacobs, his legal name) and in nightclubs (as Danny Thomas). His comedic talents eventually brought him to the attention of Abe Lastfogel, head of the William Morris Agency, who saw great potential in the amiable young man. With this...
News:
Popular Movies and Television: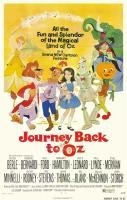 Journey Back to Oz
1990
Bob Hope's "Don't Shoot, It's Only Me"
1990
Bob Hope's Don't Shoot, It's Only Me
1989
50 Years of Television: A Golden Celebration
1989
Bob Hope's Love Affair With Lucy
1989
Fifty Years of Television: A Golden Celebration
1989
Conversation With Dinah
Worked With: