Barbara Carrera
Biography:
Birth Name: Barbara Carrera
Born: 12/31/1945
Birth Place: Managua, NI
On the small screen, Carrera debuted as the Native American Clay Basket in the NBC miniseries "Centennial" (1978-79). She went on to portray Sheva, the woman who does what needs to be done to survive, in "Masada" (ABC, 1981) and starred as "Emma: Queen of the South Seas", a 1988 syndicated miniseries playing the real-life woman who saved the Samoan Islands from colonization in the 19th Century. Carrera was featured in the 1982 pilot for ABC's "Matt Houston" and played a former call girl looking back over 20 years in "Sins of the Past" (ABC, 1984). During the 1985-86 season, she was cast as Angelica Nero, the shipping executive allied with Cliff (Ken Kercheval) but flirting with Jack Ewing (D...
Photo Gallery:
Popular Movies:
Love Is All There Is
Wicked Stepmother
Loverboy
Wild Geese II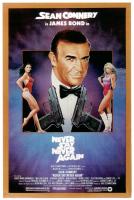 Never Say Never Again
I, the Jury
Lone Wolf McQuade
Condorman
When Time Ran Out
Worked With: