Susan Clark
Biography:
Birth Name: Susan Clark
Born: 03/08/1940
Birth Place: Sarnia, Ontario, CA
Clark studied acting in her native Canada and then at RADA in London, where she made her stage debut. Her film debut was in a decidedly supporting role in the soapy "Banning" (1967), but it earned her a contract at Universal. The actress subsequently played a married woman having an affair with Henry Fonda in "Madigan" (1968), a social worker who was the object of Clint Eastwood's lusting eyes in "Coogan's Bluff" (1968), an upper-crust physician working on the reservation in "Tell Them Willie Boy Is Here" (1970), and Mrs. Patroni, wife of Joe Patroni (George Kennedy) and a passenger on a flight being flown by stewardess Karen Black, in "Airport '75" (1974). In 1982, she returned to Canada to...
Photo Gallery:
Popular Movies:
Nobody's Perfekt
Porky's
The North Avenue Irregulars
Promises in the Dark
Murder By Decree
City on Fire
Real Life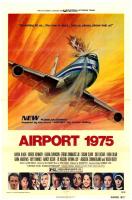 Airport 1975
Night Moves
Worked With: