Tara Fitzgerald
Biography:
Birth Name: Tara Fitzgerald
Born: 1968
Birth Place: Sussex, England, GB
Fitzgerald subsequently lent her ethereal qualities to "Sirens" (1994) as the wife of a clergyman (Hugh Grant) seduced by the bohemian lifestyle of eccentric artist Norman Lindsay (Sam Neill). In the offbeat British production "A Man of No Importance" (1994), she played an unwed pregnant country girl who inspires a closeted gay bus driver to try to fulfill a long held dream of directing a production of Oscar Wilde's "Salome". She re-teamed with Grant in 1994, in the quaint British period piece "The Englishman Who Went Up a Hill but Came Down a Mountain" (1995), then was cast as Ewan MacGregor's love interest in the comedy "Brassed Off" (1996). Fitzgerald has also appeared in the British TV-...
Photo Gallery:
Videos:
Tom Hardy at 'Legend' Premiere
Tara Fitzgerald's Self Portrait: 'People Think I'm a Bit Posh'
Game of Thrones Season 5: Stars Tell Us What's in Store
Show More Videos
Popular Movies:
Child 44
Exodus: Gods And Kings
I Capture the Castle
The Dark Blue World
Brassed Off
The Englishman Who Went Up A Hill But Came Down A Mountain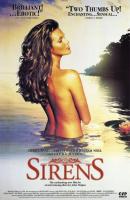 Sirens
Hear My Song
Worked With: