Callie Khouri
Biography:
Birth Name: Callie Khouri
Born: 11/27/1957
Birth Place: San Antonio, Texas, USA
Khouri began as a producer of music videos and production coordinator of the "Rigoletto" segment of the film "Aria" (1987) before writing the script for the controversial "Thelma & Louise" (1991). Praised as an exuberant, liberating, feminist buddy film and female take on road movies by a majority of critics, the feature was also reviled by others as a pseudo-feminist revenge fantasy in which the two central characters shoot and kill a man with his hands raised in surrender, rob a convenience store and choose suicide over facing the consequences of their actions. Ultimately, critical and popular favor came down on Khouri's side, with the writer winning several awards, most notably an Osc...
Photo Gallery:
Videos:
Callie Khouri: Pitching the Show and the Town
Callie Khouri: Waiting On Gloria Steinem
Callie Khouri: Writing the "Nashville" Pilot
Show More Videos
Popular Movies:
Mad Money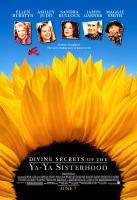 Divine Secrets of the Ya-Ya Sisterhood
Mighty Joe Young
Something to Talk About
Thelma & Louise
Worked With: