Sondra Locke
Biography:
Birth Name: Sondra Locke
Born: 05/28/1944
Birth Place: Shelbyville, Tennessee, USA
Sondra Locke was born on May 28, 1947 in Shelbyville, TN to parents Pauline, a factory worker, and Raymond Smith, a military man. The couple parted ways before Sondra's birth, however, and Pauline soon married a local construction worker named Alfred Locke, who would raise Sondra as his own. She attended Shelbyville Central High and participated in the drama club prior to graduating in 1962 as class valedictorian. Locke briefly attended Middle Tennessee State University and performed in several stage productions at the school, during which time she met openly-gay future sculptor Gordon Anderson, who she would later marry in an unconventional expression of their lasting friendship. After movi...
Photo Gallery:
Popular Movies:
Impulse
Ratboy
Sudden Impact
Bronco Billy
Any Which Way You Can
Wishbone Cutter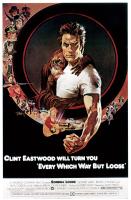 Every Which Way But Loose
The Gauntlet
The Outlaw Josey Wales
Worked With: