Sue Lyon
Biography:
Birth Name: Sue Lyon
Born: 07/10/1946
Birth Place: Davenport, Iowa, USA
This blonde ingenue made a rocky transition to leading lady. Lyon won the controversial role of Dolores Haze, the sexually charged adolescent and the object of an older man's obsessions in Stanley Kubrick's "Lolita" (1962). From the Vladimir Nabokov novel of the same name, Kubrick's "Lolita", although a toned-down version of the story, was nonetheless one of the most notorious films of its day and Lyon rode to fame on its coattails. She played a similar role in John Huston's "Night of the Iguana" (1964), competing for the affections of Richard Burton's defrocked alcoholic preacher against the likes of Deborah Kerr and Ava Gardner, and she played an innocent in John Ford's last film, "Seven W...
News:
Celebrity Birthdays, July 10
Celebrity Birthdays, July 10
Celebrity Birthdays, July 10
Celebrity Birthdays, July 10
Popular Movies:
Alligator
End of the World
Crash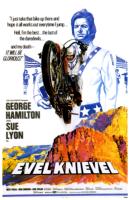 Evel Knievel
Tony Rome
The Night of the Iguana
Lolita
Worked With: