Mia Sara
Biography:
Birth Name: Mia Sara
Born: 06/19/1967
Birth Place: Brooklyn, New York, USA
TV has also offered Sara many paychecks, but only the occasional chance to show off her acting skills. Some considered her miscast in the title role of the miniseries "Queenie" (ABC, 1987), a thinly veiled biopic of screen goddess Merle Oberon, based on Michael Korda's book. (Sara, who won the role in part because of her resemblance to Oberon, herself later admitted that at age 19 she was too young for the role). In Judith Krantz's sudsy "Till We Meet Again" (CBS, 1989), she fared somewhat better as the daughter whose extraordinary good looks lead to a successful film career. She also turned up in the TV-movies "Big Time" (PBS, 1989, as a frustrated fashion model), in the horror thriller "Da...
News:
Popular Movies:
The Pompatus of Love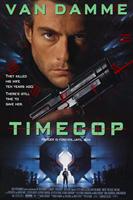 Timecop
Caroline at Midnight
A Stranger Among Us
Apprentice to Murder
Ferris Bueller's Day Off
Legend
Worked With: