Cindy Williams
Biography:
Birth Name: Cindy Williams
Born: 08/22/1947
Birth Place: Van Nuys, California, USA
Williams was born in Van Nuys, a modest suburban area of Los Angeles' San Fernando Valley. She made her first TV appearance on an episode of "Room 222" (ABC) in 1969 and another appearance on the show during the next season. By 1971, she had landed her first series, "The Funny Side" (NBC), doing sketch segments teamed with Michael Lembeck as a counter-culture young couple. Williams made two appearances on "Happy Days", the hit ABC series, in 1975 and the following year, ABC and the partnership of Tom Miller, Ed Milkis and Garry Marshall turned her character of Shirley Feeney and that of Laverne DeFazio (played by Marshall's sister, Penny) into "Laverne & Shirley", roommates working at a ...
News:
Photo Gallery:
Popular Movies: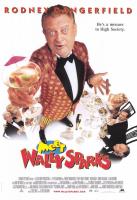 Meet Wally Sparks
Father of the Bride Part II
Bingo
Father of the Bride
Big Man on Campus
More American Graffiti
The First Nudie Musical
The Conversation
Mr. Ricco
Worked With: