Kabhi Khushi Kabhie Gham...
Release Date: December 14, 2001
Running Time: 209 mins.
Box Office: $2,902,000.00
Genre: Comedy, Drama, Family, Foreign, Musical

Summary:
Rohan, the son of wealthy Yash and Nandini Raichand, returns to his parents' house outside New Delhi to celebrate Diwali with the family. Once there, Rohan begins to dwell on the fact that his estranged older brother Rahul is absent. 10 years earlier, Rahul and their father Yash had a falling out after Rahul married his sweetheart, middle-class Anjali. Since then, Rahul and Anjali have settled in London. Rohan decides to travel to London to bring his brother home, in the hopes of a reconciliation. If everything goes well, Yash will forgive Rahul, and the Raichands will once again be one happy family. But first, Rohan must convince Rahul to come home.
Cast:
Amitabh Bachchan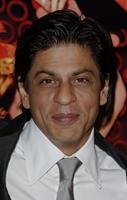 Shah Rukh Khan
Hrithik Roshan