SpongeBob SquarePants Movie
Release Date: November 19, 2004
Running Time: 99 mins.
MPAA Rating: PG
Box Office: $85,416,609.00
Genre: Adaptation, Animated, Children, Comedy, Family

Summary:
There's trouble brewing in Bikini Bottom. Someone has stolen King Neptune's crown, and it looks like Mr. Krab, SpongeBob's boss, is the culprit. Though he's just been passed over for the promotion of his dreams, SpongeBob stands by his boss, and along with his best pal Patrick, sets out on a treacherous mission to Shell City to reclaim the crown and save Mr. Krab's life.
News:
Cast:
Alec Baldwin
Carolyn Lawrence
Clancy Brown
Scarlett Johansson
Jeffrey Tambor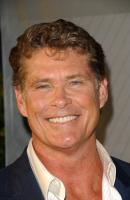 David Hasselhoff
Videos:

Box Office Top 3: "Fifty Shades" Locks Up Box Office Records


Box Office Top 3: SpongeBob Takes Top Spot With $56M


Is SpongeBob Ready to Move from a Pineapple to the Real World?

Show More Videos