Joey Fatone
News
'N Sync's Reunion At The VMAs Was A Letdown
MTV VMAs: Rumored 'N Sync Reunion Still On Despite Denials From Joey Fatone, Lance Bass
Rumor Patrol: Chris Brown Calls DA Racist, 'N Sync Reunion, More
'N Sync Set To Reunite At MTV Video Music Awards?
'Dancing With The Stars' - Week 2 Results And It's A Shocker!
Photo Gallery
Biography

NULL Born: NULL
Birth Place: NULL
Died: NULL
Years Active: NULL

Born on Jan. 28, 1977 in Brooklyn, NY, Joseph Anthony Fatone, Jr. was the youngest of three children born to Phyllis and Joe Fatone, Sr. Though much of his childhood was spent growing up in Bensonhurst, Fatone moved to Orlando, FL with his family at the age of 13. There, Fatone shifted his creative focus from acting to singing. In his teens, Fatone became a member of a singing group known as the Big Guys. Fatone's rich, baritone voice - a gift he inherited from his father, Joe Sr., who was a former doo-wop singer - served the band well and helped the Big Guys gain quite a small, but loyal regional following.After graduating high school in the mid 1990's, Fatone landed a job at Orlando's Univ...
Popular Music:

Radio (Single)
All Releases >>
Popular Movies:

The Cooler

My Big Fat Greek Wedding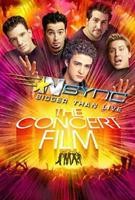 'N Sync: Bigger Than Live

On the Line
More Credits >>
More Joey Fatone:
Biography | Albums | Movies & TV Shows | News | Pictures |
Browse More Music:
# A B C D E F G H I J K L M N O P Q R S T U V W X Y Z